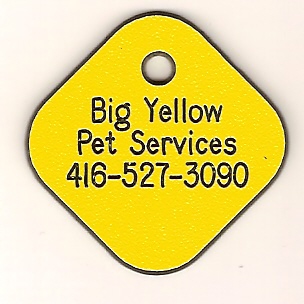 WHY DO I NEED A DOG WALKER?

Imagine. 

The one you love has gone for the day.  Once again, you're left alone... to do what? Sleep a bit.  Sit around.  Sleep some more.  Sure, the TV has been left on, but what's the point?  Daytime programming is the worst.  You sit there and wonder how long they'll be gone.  You can't even go to the bathroom until then.  Just great.

FEELING  GUILTY?    DON'T.

Instead, imagine running, playing, sniffing, DOING YOUR BUSINESS.  All the joys of nature.  And with your friends, too!  Doesn't excite you?  It will for your dog.  He'll be happier and healthier. 

Group walks are one hour in length in a nearby park or ravine.  Each group consists of no more than 5 dogs and, yes, we supply the bags.  All dogs require an up-to-date vaccination, flea control, and an I.D. tag.                  All dogs are also outfitted with a Big Yellow I.D. tag.

There are also private walks

available for puppies, older dogs,

and recuperating dogs.  

Going away?   Book our daily cat visits and we'll feed the feline, clean the litter box, water the plants, bring in the mail, turn the lights on and off for that lived-in look, and, of course,  give lots of loving attention to the little furball.  You won't have to worry about a thing. 

And yes, we're also experienced in giving medication,  if needed. 

A home-away-from-home for your pooch while you're away.  All the comforts of home, including walks in the park, comfy dog beds, treats (at your discretion), and a fenced-in yard.  Space is limited, so be sure to book in advance to guarantee a spot.   All dogs require up-to-date vaccinations including bordetella (kennel cough), and flea control.